2021 - 2022 Player Registration
---
REGISTRATION INFORMATION
Registration for the 2021-2022 hockey season for players, coaches and managers, is now open. We understand that the RAMP registration system works best with the Google Chrome browser.
When you register please do NOT use any of the following email addresses as your contact information. This is critical because due to Microsoft, you will not be able to receive important emails from AMHA, including the Evaluation emails that notify you of when your player will skate next.
@hotmail.com
@live.com
@msn.com
@passport.com
@passport.net
If you have an email with one of those addresses please use an alternate email address when registering. (e.g. Google, Outlook, Shaw, Telus, etc.)
Please make sure to review all the information below before starting your registration.
If you had elected to take a credit for your refund of last year's fees that credit will be applied to the last payments once placed on a team in October and November.
---
What division should I register for, please refer to the chart below: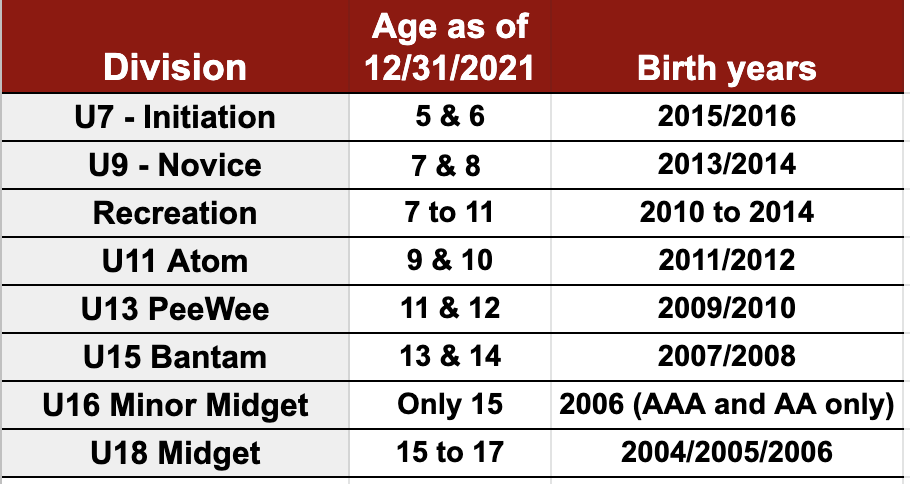 This year we have gone back to RAMP for our website and registration process. If you were with AMHA 3 years ago or have an existing RAMP account from another sports organization, please use your existing RAMP login to register with our link below. If you do not have a RAMP account you will be required to create a new account, this is easy as you only need an email and a password to create an account. When filling out the registration, please be sure to update the parent/guardian contact information as well as we do need parent birth dates for our records.
Like last season, we will again have a hard deadline to register by July 31, 2021. Please make sure to complete your registration before then to ensure a spot for your player. If you register after July 31, 2021 you will be subject to an additional late fee of $250, be put on a waiting list and/or possibly not be placed on a team sufficient of your players skill level. (exception for U7, U9, AA and AAA import players)
Any changes made to registration after August 1, 2021 will have a $75 change fee, so please ensure that you select the correct program for your player at the time of registration. There will be absolutely NO changes after Friday September 10, 2021.
Make sure to register your player for the highest level of team that your player wants to try out for. For U13 to U18 select the Competitive Tier 1 option plus the AA or AAA Tryouts and Prep Camps that you are interested in attending.
For example, if your player is trying out for U15 AAA Xtreme please make sure you select the following:
U15 AAA Xtreme Prep Camp (Optional)

U15 AAA Xtreme Tryout

U15 AA Prep Camp (Optional)

U15 AA Tryout

U15 Competitive

U15 Comp/RHL/Female Prep Skate (Optional)
Note: If your player makes the AAA team and does not attend the AA or Competitive camps or Tryouts, then we will refund you those applicable fees.
REGISTRATION FEES, PAYMENT AMOUNTS AND DATES
Fees are payable by credit card only. If you do not have a credit card please contact the office directly at 403-912-2680.
This year, at the time of registration, we will only be charging a deposit fee of $100 for team registration and a deposit fee of $50 for any optional Prep Skates/camps or AAA/AA Tryouts chosen.
Then on,
August 15th we will charge the other half of the U11 and under Prep Skate and Evaluation fees. For all other ages we will charge the balance of any option Prep Skate fees.

September 1st we will charge the balance of the AAA and AA Prep Camp and Tryout fees.

September 15th we will charge the balance of U11 and under Prep Skate and Evaluation fees and the Evaluation fees for all other ages.
After evaluations and your player is placed on a team we will send you a notice to register your player to pay the remaining fees. You will use the link we send you to sign into your Ramp account and go into the Participant Registration and choose the package that pertains to the team your child has made. The remaining fees will be automatically charged in 3 payments starting on October 15th, November 1st and November 15th. If you had elected to take a credit for your refund of last year's fees that credit will be applied to these last payments.
If your player changes their mind about playing hockey, please refer to the 7.3 Refund Policy.
Subsidy Financial Assistance Programs Available
For funding, subsidy or assistance with the registration fees, please visit the following supporters:
'No kid should be left on the sidelines'.

Calgary & Area KidSport helps give kids in the area a chance to have their lives positively impacted through the power of sport, and parents the ability to say 'yes' to organized sport.

'Help kids play today. See where they go tomorrow.'

Canadian Tire Jumpstart is committed to ensuring kids in need have equal access to sports and physical activity - an equal chance to be their best.

is a national charitable program, helping financially disadvantaged children play hockey by paying for registration fees and providing equipment for each child.
If you are going to use one of these services, please call the office prior to registering and before the deadline of August 1, 2021 for the applicable registration promo code.
Equipment Assistance
If you need assistance in obtaining hockey equipment, please visit:
They provide used sports equipment at no cost to help low income families whose kids would otherwise be denied the opportunity to participate. Comries provides an opportunity for these kids to be able to pursue their dreams in sport.
Team Fees
The AMHA registration costs only cover the regular season league games, practices and playoffs.
You may be required to pay additional team fees throughout the season to cover the costs of going to tournaments, exhibition games, bus transportation to away games, dry land, team apparel, team building events, busing, provincials, etc. and for AA teams the monthly coach honorarium fees. These costs should be voted on at the initial team meeting and agreed upon before a team commitment is made. Many teams will elect to do some fundraising to offset some of these costs.
Registration Costs for 2021-22 Season:
Refer to the chart below to determine the total fees associated with your player(s) division and stream and when the payments will be due.
NOTE: U9 September payment is September 1st not 15th.





NOTE: After July 31st the non-refundable late fee of $250 may be charged on the day of registration included with the $100 non-refundable deposit fee.
For more information on the AAA Teams please refer to the ACAA (Airdrie Cochrane Athletic Association website).
Prep Skates/Camps and AAA and AA Tryout Fees:
Refer to the charts below for the costs of Prep Skates/Camps and AA/AAA Tryouts.
Tentative dates are here.
U16 AAA AC Avalanche and U16 AA Havoc 3 on 3 Tournament, click here for details. Registration for tournament will be available during your regular Player Registration.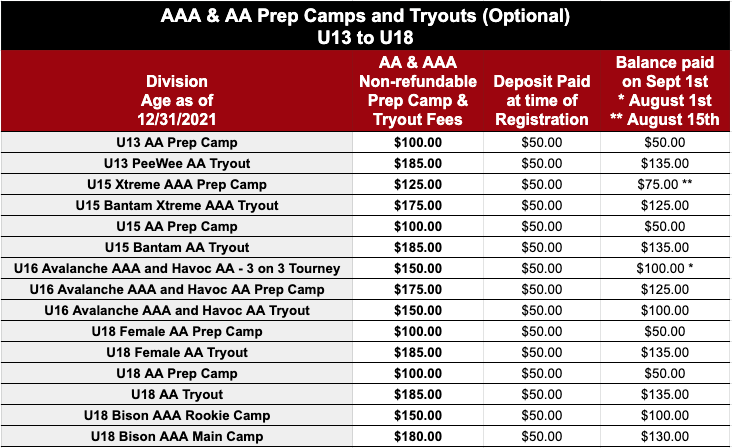 PROGRAM OVERVIEWS:
AMHA offers hockey for all ages and levels. Starting with our U7 Initiation program for 5 and 6 year old's right up to our U18 AAA Midget team that competes at the highest level of minor hockey in Alberta.
Our season starts in late August where we offer Prep skates, as per the Hockey Alberta Intro to Hockey and U11 Atom Pathway requirement before the start of school for our U7, U9 and U11 divisions and optional Prep Skates, Goalie Skates or Checking Skill camps for our U13 to U18 divisions.
In September we complete Evaluations for all of our players and goalies to place them on the team best suited for their skills and abilities.
For our U7 Initiation and U9 Novice divisions we offer a City league program that has the teams playing each other throughout the season, with options to set up exhibition or tournament games at the team level.
The U7 Initiation program includes 4 pre-season Prep Skates in August and will typically run from mid October to mid March. There are 2 (45 minute) sessions per week which will be held on most Saturday and Sunday mornings. Full hockey player equipment is required for all sessions. Tim Hortons supplies each U7 Initiation player in Airdrie with a Timbits jersey that they get to wear for the season. The jerseys must be worn during each practice, game and tournament that the team takes part in and will be collected back at the end of the season.
The U9 Novice program includes 4 pre-season Prep Skates in August and will typically run from mid October to mid March. There are typically 2-3 (1 hour) sessions per week which may consist of practices, power skating and a game. Most practices and games will be held on Saturday and Sunday mornings with an additional practice mid week. Full hockey player equipment is required for all sessions.
Our Recreation program can offer another option for people that want to try hockey but don't have the time to commit to multiple games or practices a week. The Recreation program includes 1 game per week on Sunday and lots of other fun social activities throughout the season. AMHA recently received a special grant to fund some of these extra activities for the upcoming 2021-2022 Season. These extra activities are currently being worked on but may include Family Thunder Game Night, Halloween Celebration, Christmas Celebration, Valentines Celebration, Power Skating Sessions and End of Season Function.
For our U11 Atom division we have a City league as well as teams competing in the CAHL league where they will travel to other communities within southern Alberta to compete. Both leagues typically start in October and run till the end of February unless you make it into playoffs which may extend into March. The season will consist of 2-3 sessions per week that include practices and a weekend game(s).
In the U13 Pee Wee, U15 Bantam, U16 Midget 15 and U18 Midget divisions, we offer a variety of options. City league, CAHL league for competitive hockey within southern Alberta, SCAHL for AA hockey in southern Alberta, and for U15 and up AAA hockey which is the highest level of competition in the province for these age groups. Depending on the league, the season will consist of 2-6 sessions per week that include practices and a weekend game(s). AAA teams are regional teams and are made up of players from a larger draw zone than just Airdrie, Beiseker and Crossfield. You can find the full draw zone area on the Hockey Alberta website under the Players, Male Hockey ADM (AAA) or contact the AMHA office if you are unsure.
In Airdrie our AA and AAA teams are coach picked. Again like last year the 15-year-old only U16 Midget AA team will be having combined conditioning camp and tryouts with the U16 AAA AC Avalanche. Registration for both teams will be the same price and then depending on the team you make you will be charged the difference once teams are finalized.
When trying out for AA teams or higher there are no guarantees on the number of try out skates you will get, you could be released after only one skate.
For Female hockey players that want to play in the female program we offer female only teams in the U11 Atom division right up to U18 Midget AA Elite. After registration closes, if we determine to have enough females in the U7 to U11 City divisions then we will look at also offering female only teams for those age groups.
Our season typically runs until the end of February and then playoffs start for many of the leagues. If successful, teams could be playing until the end of March depending on how far they go in the playoffs. Once a team loses out in playoffs their season is finished and this could be as early as the end of February.
Please review our Policies and detailed overviews of the specific Division you are wanting to register your child in to familiarize yourself with how each program operates. Find our Divisional Policies here.
Note Exceptions for 2021-22 Season:
U13 PeeWee Tier 1 and U11 Atom Tier 1 will have sole ice practices instead of the ice max shared practices all year as well as 5 joint practices with the U13 PeeWee AA team throughout the season.

AMHA Prep Skates will be in the last two weeks of August. The fee for four 45 minutes sessions for U7 Initiation, U9 Novice and U11 Atom Prep Skates is included in the registration fee .

The U13 Pee Wee to U18 Midget optional Prep skates are $100 and are invoiced separately at the time of registration.

U13 PeeWee To U18 Midget AA Prep Camps will be 4 to 5 one hour sessions.

Goalies may sign up for Prep Skates, but please note that there will not be goalie specific trainers at the Prep Skates. AMHA does offer a Goalie Camp option of four 1 hour sessions.

AA and AAA Prep Camps are run by the team coaches so it is recommended that if you are trying out for those teams that players and goalies attend the AA Prep Camps.

Please also note that in order to place as many players as possible into Prep Camps, Female players may be placed into the all female groups.
There are no refunds for Prep Skates or Tryouts.
Forms, Documents and Information you need before Registering:
If you have a rural address or postal box number you must enter your legal land description.
Please be sure that your player position is correct on the registration as positions will not be changed. (This only applies to U13, U15 & U18.) We will not be sending out a confirmation for positions, it is the responsibility of the person registering to make sure this has been entered correctly. So please indicate FORWARD, DEFENSE or GOALIE on player position when registering.
Returning or Existing Players (including siblings) will need:
Respect In Sport (RIS) Parent Certificate # and expiry date. You can find this information

here

. Once on the RIS website you can enter your email and it should link you to your current certification. Note that this year RIS has extended everyone's expiry date by 1 year so if your RIS Parent expired in 2021 you should be good now till 2022.

We will not allow your player on the ice if your RIS parent certification is expired. If you need help finding your RIS info please refer to the Parents tab on our website to find the

RIS Parent Help

.
New to Hockey Players will need:
Respect in Sport Parent certificate number. You can complete the course

here

. Once done please link your player(s) to your profile under the Child Management tab and then make note of the certificate # and expiry date, as you will need to input that in the registration.

Scanned copy of Birth Certificate

Proof of residency documents (i.e. Drivers license, utility bill, etc. showing your name and current address within our AMHA boundary.)
Players Transferring from Another Association will need:
Completed Hockey Alberta

Parent Declaration Form

(1 per player). This form requires both parent signatures and will need to be uploaded during the registration process.

Proof of residency documents (i.e. Drivers license, utility bill, etc. showing your name and current address with our boundary.)

Respect In Sport Parent Certificate # and expiry date. You can find it

here

.
You will need to upload these forms during the registration, so please have these documents ready before you begin the registration process.
AAA & AA Registrations:
Players From Outside Airdrie Boundaries Trying out for AA or AAA or wanting to attend AA or AAA Prep Camps, will only register for those Tryouts and/or camps and will need to get the following Hockey Alberta Forms signed and approved by your local Minor Hockey Association prior to completing the registration:
- U13 PeeWee AA - September 7 to 10
- U15 Bantam AA - September 7 to 10
- U18 Midget Female AA - September 10 to 13
- U18 Midget AA - September 14 to 17
- U15 Bantam AAA - Aug 31 to Sept 3
- U16 Midget AAA AC Avalanche/U16 Midget AA Havoc - Sept 7 to 10
- U18 Midget AAA Bisons does not require the Permission form - Rookie Camp Sept 3 to 5 and Main Camp Sept 6 to 11
Note: these dates are not confirmed but can be used temporarily to fill out the form
AA:

Female AAA or AA Elite:
If you now have everything you need to register, click the link below.
Registration is now Closed.
If you are wanting to register please contact the AMHA office at: officeadmin@airdriehockey.com or carol@airdriehockey.com
If you would like to volunteer to be a Head Coach, Assistant Coach, Goalie Coach or Team Manager please also complete the Coach/Staff Registration once you have completed the Participant Registration for your player(s).
Note: Team Managers, please disregard the coach certification section.